Stamped concrete, also known as textured or imprinted concrete, resembles natural materials such as slate, flagstone, tile, brick, and even wood. Patios, pool decks, driveways, and other outside spaces are popular because of the variety of patterns and color options. Furthermore, it is a cost-effective paving solution that needs less care than other paving materials.
In addition to its exceptional durability and weather resistance, colored and stamped concrete is an excellent alternative for achieving the high-end appearance of stone, bricks, or wood on patios, pool decks (including travertine), driveways, pathways, and courtyards (including travertine).

Is stamped concrete right for me?
Are you thinking about using concrete stamping? Compare the benefits and drawbacks to see if it's appropriate for you.
Advantages: 
It is less expensive than real stone, brick, or pavers.

Enhances outdoor areas and increases the value of your property

Pattern and color options are practically endless.

When treated with a non-skid compound, it becomes slip-resistant.

It is long-lasting and durable

When sealed, it's simple to keep clean.
Disadvantages 
It doesn't lend itself to do-it-yourself projects.

Minor cracks are possible.

Freeze/thaw cycles and deicing salts can harm it. Thus, it has to be cleaned and resealed regularly.

Repairs might be challenging.
What does stamped concrete cost?
Concrete stamping may be excessively expensive depending on the cost of supplies and labor in your local market, as well as the complexity of the operation. However, the old saying "you get what you paid for" holds in this situation. Stamped concrete will give you a surface that will last longer and require less maintenance than most other materials, potentially saving you money over the life of the surface.
According to HomeAdvisor, The average cost of stamped concrete is $4,428, but it may range from $2,705 to $6,266. Contractors charge anywhere from $8 to $28 per square foot, depending on the size and intricacy of the job. A stamped concrete patio costs around $2,600, while a driveway costs $11,520. Expect to pay roughly $3,600 for a walkway. An average internal floor in one room costs $5,760.
Is stamped concrete cheaper than pavers?
Stamped concrete patio and deck materials are quite popular all over the world. It is less costly than pavers and is available in various colors and patterns. Because stamped concrete is formed of concrete, it will inevitably crack over time. The installers will insert control joints every few feet to address this issue.
What is the process of concrete stamping?
Preparation of the Subgrade
The subgrade's preparation considerably influences a slab's overall performance and structural integrity. It must be compacted well to avoid drainage and soil erosion beneath the concrete. Here's where you can learn more about proper subgrade preparation.
Placing the Forms
Forms made of wood, metal, or plastic are secured to stakes and utilized to hold the concrete in the designated area. The forms must be in good condition, that they're positioned to give the proper slope or grade for drainage, and that they're built in such a manner that they produce clean corners where they meet other structures or each other. 
Reinforcement Installation
Steel bars or welded wire mesh are required to provide structural function and support in the concrete slab. The basic reasons for incorporating reinforcement in the slab are to help in crack management, provide structural capacity, increase impact resistance, and reduce the amount of joint maintenance required. This article explains how to reinforce large slabs, such as driveways.
Putting the Concrete in Place
Concrete is frequently placed by having a concrete truck pull up and dump concrete from a chute onto the surface. Because moving the concrete about too much (with shovels or other equipment) might cause segregation in the material, it should be placed as close to its final destination as possible. When the project is finished, make sure to use plastic sheeting to protect nearby buildings, vegetation, and any existing slabs from concrete splatter. The type of concrete used has a significant impact on the installation's performance.
Cleaning and Polishing the Concrete. 
Because you need to provide a suitable canvas for decorative stamping soon after stamped concrete installation, the job you conduct shortly after concrete installation is critical. The two most important aspects are that the surface is leveled to avoid low or high spots. 
Improving the Curing of Stamped Concrete When curing (or letting your concrete dry), the objective is to maintain a suitable moisture content for a long enough period to enable the essential qualities of the concrete to develop and become fully functional. Inappropriate curing, concrete gets denser and more impervious to water, ultimately increasing the material's strength and longevity. More information about concrete curing may be found here.
Joint Installation
 Cutting contraction joints (also known as control joints) can help prevent obvious fractures in concrete from appearing. Although not all cracking can be avoided due to stress caused by temperature changes and drying shrinkage, it is feasible to reduce it to a minimum. Random cracking can be controlled by releasing tension at certain locations.
Putting a Finish on Stamped Concrete 
A decorative stamped concrete installation isn't complete until the concrete's surface has been sealed. This is the final and maybe most crucial stage of the procedure. A sealer will help enhance the color of concrete, offer a sheen to the surface (ranging from satin to high gloss), prevent the penetration of stains from dirt, chemicals, leaves, and other organic matter, and decrease the chance of efflorescence discoloring the surface.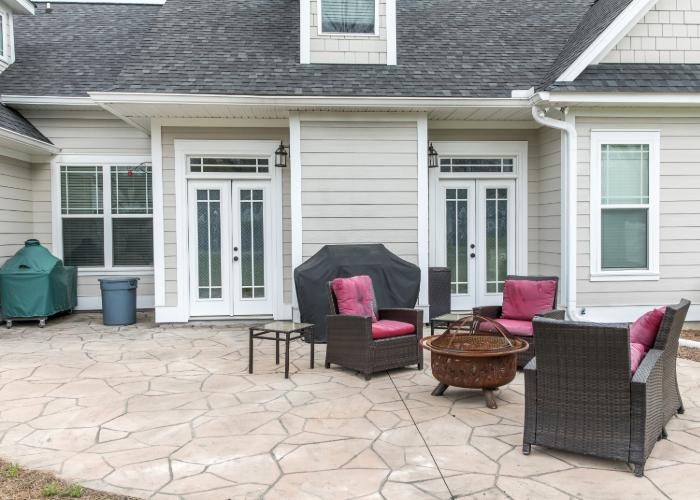 How long does stamped concrete last?
In most circumstances, concrete stamping will last the same length of time as non-stamped or conventional concrete—roughly 25 years if properly installed and maintained because the processes for putting stamped concrete and normal concrete are almost identical.  
Stamped concrete is durable and also adds beauty to the home, employ the service of a professional today in any event you want to build or make an adjustment to your home. Reach out to San Antonio Stamped Concrete Pros to get started on your stamped concrete patio or driveway today.